Most newly-found couples like to publicly acknowledge, dedicate or formalize their union in one way or another. For people of faith, a wedding ceremony is the preferred event to dedicate their new union to a higher purpose. Wedding traditions and customs vary greatly between cultures, ethnic groups, religions, countries, and social classes.
One such tradition is that of the Marriage Blessing. I am proud to promote the Marriage Blessing tradition.
The Rev. Sun Myung Moon and Dr. Hak Ja Han Moon, founders of Family Federation for World Peace and Unification, began the tradition of the Marriage Blessing in 1960. Based on their lifelong commitment to a world of strong marriages and empowered families, the Marriage Blessing has become a worldwide tradition where couples dedicate their marriage to a greater purpose and God.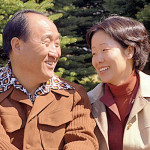 The Marriage Blessing is an opportunity for couples to renew or begin their marriage relationship through a new commitment to live purposefully for the world and God. In response to the breakdown of traditional marriage in our world, the Marriage Blessing offers a path to build a world of stronger marriages and healthier families.
By participating in this ceremony, couples become part of a worldwide community of Blessed Couples striving to embody God's love, and create a better world for families.
For more information about the Marriage Blessing, please contact: